say cheeesee!!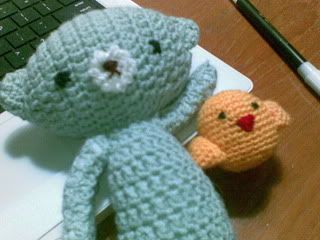 hehe
both look like they are looking to the camera and waving hands. haha!
the bird, i named him Atha (my neighbor's baby name, pretty much like my littlest brother right now :D) because he is just cute, so small, like a baby! I like him so much!! also he is my first ever amigurumi!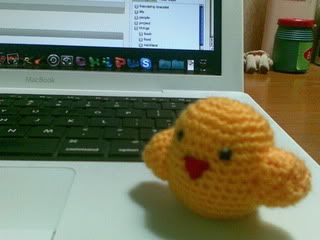 you can get the free pattern here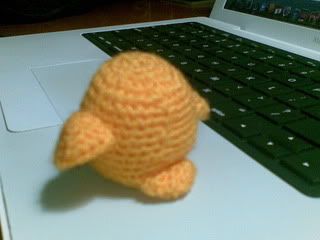 this boy has a really small tail..:S
i will make more birds since the pattern says that bird can't live alone ;p but I can't wait to make this second project! i mean, this one :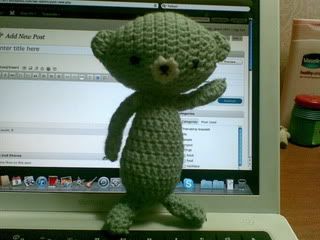 yeah this bear is not as cute as the pattern but for me it's cute enough! haha! and it can stand up! wew, for a new crocheter, it's a big move, eh? say yes, say yes, or i'll…
kidding ;D
this bear name is Rockin' Boo. I don't even know why I add 'boo' as the family name. well, maybe because his angry plus sad face ?
haha i am not good at making cute face….
but I am proud! of course I am proud!
the bird is my first ever amigurumi and the bear is the second! why wouldn't I proud? LOL
anyway here is my points of learning :
I am not a new crocheter, I crochet scarfs, load of scarfs years ago, but i forget the way how to. I googled and found a pretty good site for beginner or the forgotter (:P) like me here. You only need to type what you wanna know about crochet or even knit in the search box, then the results will come to you. with pictures. that's what I love about this site
I didn't buy plastic cute eyes :S so I only embroidered them. first it was my mom but then I figured out how to sew the all the parts together into one piece cute amigurumi. I didn't even use pins, how dare me. I also embroidered the mouth. I should learn more to embroidery I guess.
I got a lot inspiration from this girl site: Crafty Pants! I have to admit, I spent my time browsing her pages and decided to make simple knit hat and slouchy puffs hat that she owns
after all, I love learning to crochet! It's easier than knitting! But now I'm bored with crochet so I will go back to finish my simple knit hat with navy color
and they also say bye-bye to you guys!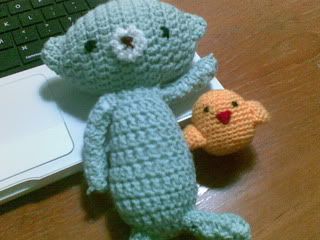 haha
love,
gnss11901